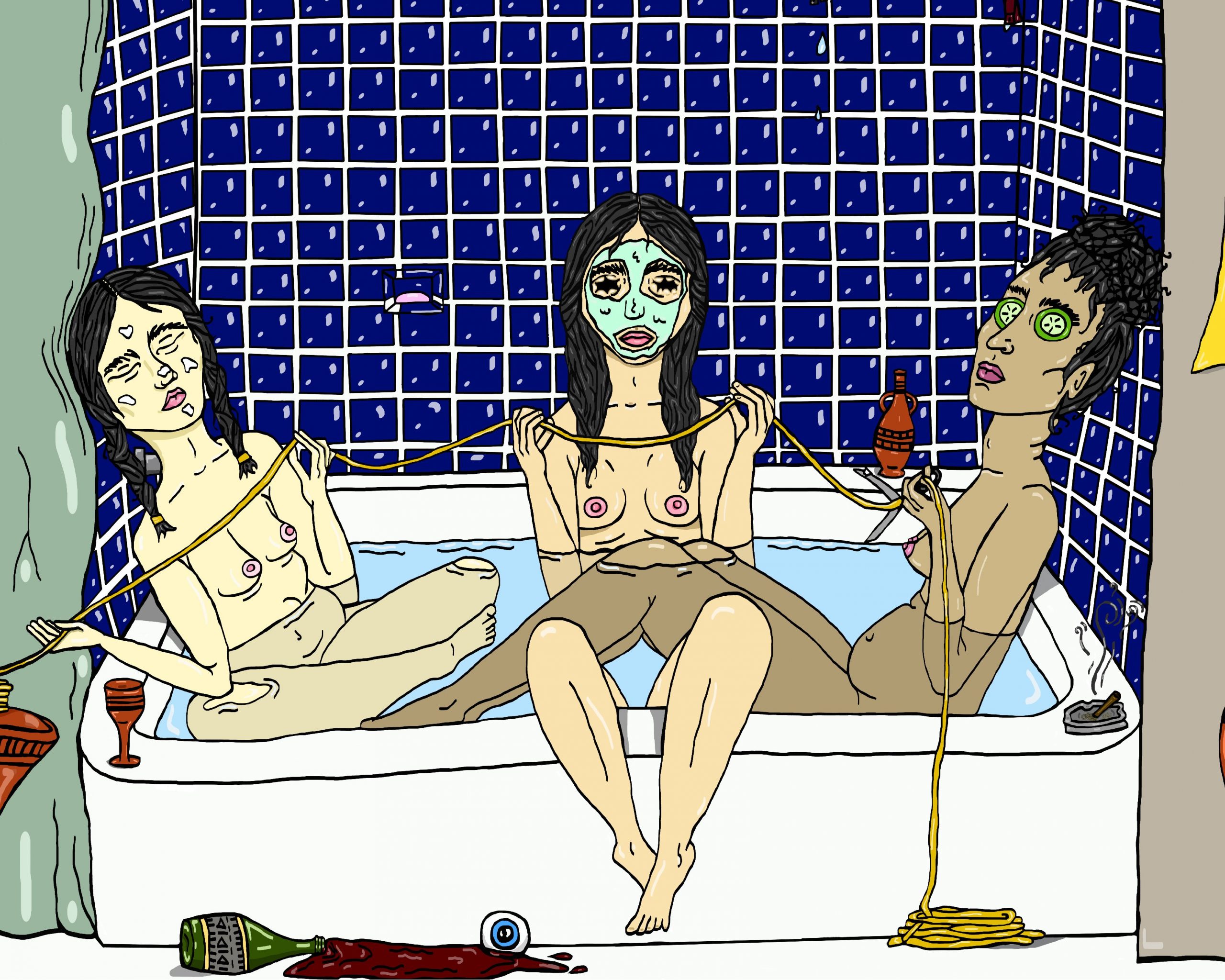 The Three Fates | Emily Morgan | Digital Media
jijijijijiWhen Alice first met Theo, he loved peanut butter and jelly sandwiches. He loved his jelly grape flavored and his peanut butter extra crunchy. The thing Theo loved the most were the times Penny would come into his work and eat a sandwich with him during his lunch break. She would knock three times on the door and come in holding a brown paper bag. Penny always knew to cut the crust off of his sandwich and to keep the bread a little cold. They'd eat and talk about their days, and when he had to get back to work, Penny would kiss him goodbye and leave. But now, Theo is with Alice and Theo goes by Eddy. Alice is allergic to peanut butter and she loves watching movies, so Eddy does too. They go and see a movie every Tuesday at the same theater. Most of the time they can agree on a movie because whatever Alice likes, Eddy does too. He pays for the tickets and she gets the popcorn and soda. For a while, Eddy didn't even think about peanut butter and jelly sandwiches. He was so consumed with the Avengers and bad romantic comedies. He would go home and think about the characters and the story he just watched unfold on the big screen. Eddy would take Buzzfeed quizzes to see which character he was most like and he would watch YouTube videos that talked about alternative endings. Eddy finally found something he loved again. He liked Alice too, but when he arrived at the theater for their 7th Tuesday movie date, she never showed up. It was nothing against Eddy, she was just spending too much money on popcorn and soda since she was also seeing movies on Fridays with Carl.
jijijijijiEddy was upset they were over. He hated going to the movies by himself; it felt so sad. Luckily for him, the next Tuesday, he had to attend the opera for a work event. At the opera, he was seated next to a woman named Theresa. Eddy could tell she liked the opera, so he asked her some questions about it. She answered all of his questions including "What's going on?" and "Does he love her or her?" and even "Can I have your number?" Eddy liked Theresa and she liked him too, but she made it pretty clear that she would like him more if he went by his full name of Theodore, so he did. Theresa hated the unnecessary amounts of butter they put on movie theater popcorn and she only made peanut butter and jelly sandwiches for her children. For their first date, Theresa took Theodore to the Guggenheim Museum. He'd never been to any place like it, and he felt the need to borrow his roommate's tux from senior prom. Theodore now loved art. He loved Hilma af Klint and Robert Mapplethorpe. Theodore made his computer background The Painter of Sunflowers by Paul Gauguin and attempted to grow out a manbun. He couldn't believe all the time he had wasted watching movies and eating peanut butter and jelly sandwiches. Instead, he now enjoyed films and ate avocado toast. He couldn't picture his life without art. Theodore also appreciated Theresa's company, but after they went to an exhibition on "The Cost of Art in the Northern Renaissance" at The Metropolitan Museum of Art, Theresa told Theodore that her divorce was becoming messy and her lawyer suggested that she shouldn't be seen with a man half her age.
jijijijijiTheodore was sad again. He cut his hair and turned his desktop background back to the plain black screen it was before. Theodore's roommates were sick of watching him mope around, so they decided to take him to the Yankees-Red Sox game. When the dreaded Kiss Cam landed on Theodore, to his surprise, the girl seated to his right kissed him and the crowd went wild. Her name was Molly, and when she and Theodore started talking, she was on her fourth beer. It only took a 20-minute conversation for Molly to convince Theodore to go by Ted after the Red Sox legend Ted Williams. Ted found out that Molly found art to be pretentious and movies to be too long, and she preferred stadium hot dogs over peanut butter and jelly sandwiches. She told him about how much she loved sports and Ted agreed to go to the Nets-Trail Blazers game with her the following night. When Ted got home from the baseball game, he watched old football upsets and hockey highlights and 30-for-30s on topics that ranged anywhere from the Olympics to super-athlete Bo Jackson. He even watched one about a crazy wrestling coach. Ted felt excited for his basketball date. When he met Molly at the Penn Station, she was excited, too. They shared Molly's headphones as they rode the subway and listened to Bruce Springsteen's "Dancing in the Dark" on repeat, a superstition Molly had. She sang awfully loud and everyone looked at her, but Ted didn't mind. He thought Bruce was real art. At the game, Ted stayed away from the popcorn and went for the Barclays Center classic Nathan's Chili Dog instead. Molly kissed him at the buzzer when the Nets point guard D'Angelo Russell scored the winning shot. Ted's adrenaline was pumping from the game and Molly's was from their kiss. The two made plans to see each other again for a Rangers game at Madison Square Garden. Ted was almost mad his friends didn't take him to a baseball game sooner; he found sports to be very entertaining. Unfortunately, Molly couldn't catch that hockey game with him. She spontaneously accepted a job in Bristol, Connecticut. Ted figured that out by reading one of her articles in Sports Illustrated.
jijijijijiSo again, Ted found himself alone. He didn't know what to do now, but he thought going back to Theo was a good start. He had no interest in going to an art museum or seeing a movie. Those were all things Theo wanted to do with a girl. A specific girl. He wanted to tell her all about his new interests and hobbies. Theo wanted her to be proud of him for doing exactly what she asked; he had finally found his own hobbies. Theo really thought he'd made some progress. He realized he wanted nothing more than to tell her all about it. He texted her before going to bed, but she didn't answer. At work the next day, Theo was getting ready to take his break and thinking about how all he wanted was a peanut butter and jelly sandwich when he heard three knocks at his office door.